With new beauty tools coming to the market everyday, its difficult to keep track of what can make a difference in our everyday routine. Here are my favourite beauty tools that help tame my hair, apply my makeup flawlessly, and keep my skin in check.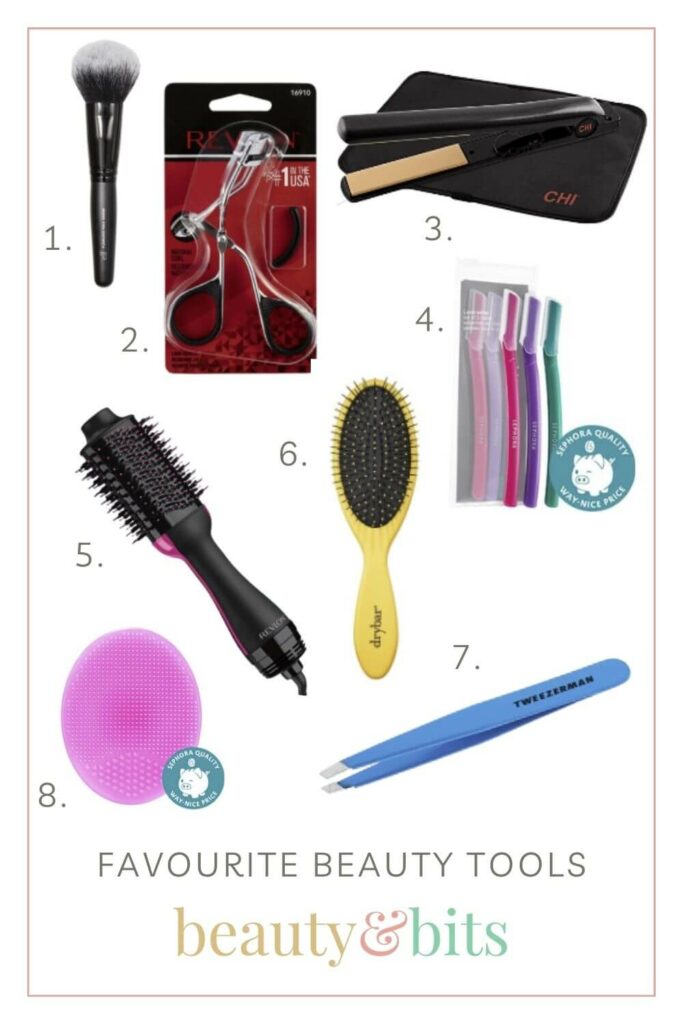 1.Cosmetics Flawless Face Brush 2. Revlon Lash curler with replacement pad 3. CHI Air Expert Classic Tourmaline Ceramic Flat Iron, Onyx Black 4. Sephora Level Setter Razors 5. Revlon One-Step Hair Dryer & Volumizer Hot Air Brush 6. Drybar Super Lemon Drop 7. Tweezerman Slant Tweezer, Blue Jewel 8. Precision Pore Cleansing Pad
---
– BEAUTY –
Cosmetics Flawless Face Brush
This is a great versatile brush that can be used with wet or dry products. I personally use this to apply powder and great for blending. It is also cruelty-free, vegan and 100% free from Phthalates, Parabens, Nonylphenol, Ethoxylates, Triclosan, Triclocarban, and Hydroquinone. At the reasonable price, it also makes a great stocking stuffer.
Revlon Lash Curler
This eyelash curler creates a dramatic curl, quickly and easily, with a gently-rounded pad that won't crimp lashes. Overall, a great eyelash curler and my go-to for daily use.
Sephora Level Setter Razors
These razors are great to have in your makeup bag and perfect for shaping eyebrows. Easily remove facial hair and peach fuzz prior to makeup application for a more flawless makeup application.
Tweezerman Slant Tweezers
If you have been trying to tweeze your eyebrows at home, consider picking up a high-quality tweezer from Tweezerman. This tweezer has been especially helpful in grabbing small eyebrow hairs.
Sephora Precision Pore Cleaning Pad
The Sephora Precision Pore Cleaning Pad gently exfoliates and massages the face. This is a reusable product that works well with any kind of facial cleanser.
---
– HAIR –
CHI Air Expert Flat Iron
CHI flat irons are great if you have thick hair or need a flat iron to work well at high temperatures. These irons heat up quickly (30 Second Quick Heat Up) and some also have an automatic shut-off for safety.
Revlon One-Step Hair Dryer & Volumizer Hot Air Brush
I was a little skeptical when I purchased this tool, but it has really changed my hairstyling routine. Although I have tried (on many occasions), I could never use a round brush and hair dryer to create the perfect blowout. For anyone having a similar struggle, I recommend trying this air brush. It's much easier to use and makes a great gift this holiday season.
Drybar Super Lemon Drop
I've been searching for a high-quality brush that gently brushes my hair and this does a great job. This is a great brush for detangling wet or dry hair without pulling on your hair.
SHOP THE POST

This post contains affiliate links to products. We may receive a commission for purchases made through these links.
– LATEST POSTS –