Once we booked our Vegas vacation, we researched several restaurants, shows and attractions that had great reviews and in most cases, affordable (or free!) options. Below are some of my favourite things to do when in Las Vegas.
1. Aria Casino Resort
Out of all the resorts, the Aria Casino Resort was our favourite. Besides being a beautiful casino, it had several amenities and attractions that we enjoyed.
The Aria buffet is a great option if you want to take advantage of an iconic buffet in Vegas. What I loved about this buffet was that there were several fresh options – soups, salads, seafood and my favourite – made-to-order Hawaiian Poke Bowl Station. In addition, they have various stations including a Fish Market, Asian, Italian, Pizza, Mediterranean, Tandoori, Latin and Carvery. Of course we finished our meal with a selection of world-class desserts.
If you're a fan of Poker, make sure you visit the famous Aria Poker Room. You may catch a glimpse of your favourite poker player or take the opportunity to sit down and join the action!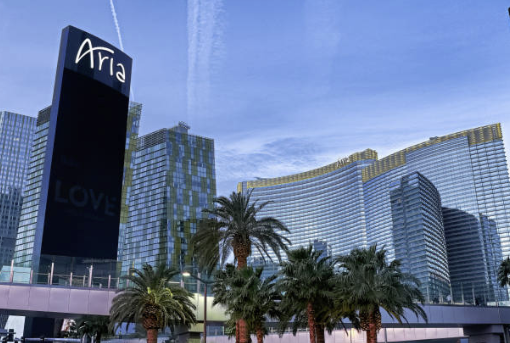 Other notable mentions at the Aria Casino Resort include Pressed Juicery – cold-pressed juice, plant-based soft serves, and power-packed shots, and Burger Lounge who utilizes only ingredients produced in a sustainable environment and features a health-conscious menu from their grass-fed beef to vegetarian dishes.
2. Soleil Las Vegas Pool at Paris Las Vegas
If you are looking for a relaxing pool option, consider the Soleil Las Vegas Pool at Paris Las Vegas. Soleil is located right underneath the hotel's Eiffel Tower replica, positioned in the heart of the Strip. The pool also hosts several events throughout the year. Make sure to view the pool's calendar before your next trip.
3. 888 Korean BBQ
Offering premium All-You-Can-Eat or a la carte menu, 888 Korean BBQ was consistently positively reviewed when we were doing our research. Offering high-quality pork, prime beef, & delicious seafood, this was one of our favourites off the strip. If you've never tried Korean BBQ, it is worth experiencing it here.

4. Drybar
I've never had a blowout, but my goodness did this change my perspective. If possible, I would do this all the time. When I was in Vegas, I took the opportunity to treat myself at Drybar. First off, you need to book an appointment or you will definitely miss out. The great thing is usually you can find an appointment on the same day. Located at the Cosmopolitan and Planet Hollywood, there are several styles you can choose from their hair menu. I decided to go with the Cosmopolitan for the ultimate curls. With many options, you'll definitely find the best style for you.
5. Ocean One Bar & Grille
Located in the Miracle Mile Shops, Ocean One Bar & Grille offers several affordable options for breakfast, lunch and dinner. We visited them for breakfast and enjoyed Eggs Benedict. This is an affordable option and their menu features dishes like burgers, salads and appetizers, as well as fresh fish, steak, chicken and chop specialties.
6. Best Friend
Located in Park MGM and featured on Netflix's TITLE, Best Friend is an amazing restaurant by Roy Choi and as it is put he says 'It's Koreatown in a capsule – a portal to the streets of LA, but also rooted in what makes Las Vegas.'
My favourite dish is the Spicy Pork. It is a thin-sliced pork belly & shoulder with Kochujang and sesame. The flavours are amazing and paired with rice, it is definitely a must-try.
7. Las Vegas Show – Absinthe
Finally, make sure you see Absinthe at Caesars Palace. Absinthe blends carnival and spectacle, featuring wild, outlandish acts performed on an intimate, circular stage where the audience is as close to the action as it can possibly get.
Have you been to Vegas? Let me know your favourite attractions and restaurants. Enjoy!
– LATEST POSTS –